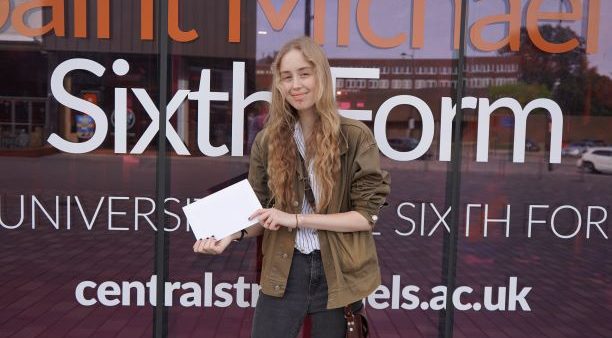 A Level students at Central Saint Michael's Sixth Form in West Bromwich have been celebrating another summer of success this morning (Thursday 18 August).
Building on the sixth form's excellent track record and confirming its reputation as one of best sixth forms in the region, the class of 2022 have been celebrating a 100% pass rate in a significant number of A Level subjects, 400 students achieving the top grades and an impressive 99% of students passing their A Levels.
Students from Central Saint Michael's will now go on to make their educational mark at Birmingham's own universities, as well as leading institutions throughout the UK. Former alumni have gone on to excel in a wide range of subjects including Medicine, Law, Pharmacy, Veterinary Science and many others.
Boma-Praise Jumbo, Central St Michael's student said: "I'm very, very happy with my results. To be able to achieve the results I have has been amazing given all the hurdles that Covid threw at us. I feel so confident and can see the future clearer now – I applied to the RAF, so I'll see if that works for me. If it doesn't, I will still have my admission because my plan was to always defer it until next year."
Abigail Turner, Central St. Michael's student added: "I got two As and a B, so I'm really happy. With these results, I am hoping to get a degree level apprenticeship in either marketing or business management, but I still have a few more interviews before anything is confirmed — I've been shortlisted for two, so hopefully it all works out."
Dr Matt Lamb, Principal of Central Saint Michael's Sixth Form, said: "Our city has just witnessed the incredible achievements of Team England at the 2022 Commonwealth Games, and we now have even more to celebrate thanks to another year of outstanding results from our students.
"I'd like to personally congratulate all our A Level students, they should be incredibly proud of the results that have been achieved today. After experiencing unprecedented upheaval to their studies throughout the Covid-19 pandemic, it is testament to their hard work, determination and drive to succeed that they now have such a wealth of opportunities available to them. I've no doubt that our alumni will have a very bright future ahead.
"I'd also like to thank our dedicated team of teachers and support staff, who go above and beyond to ensure every single student receives the support and guidance they need to achieve their goals. It has been yet another hugely rewarding year at the College and it is fantastic to see the class of 2022 secure such exceptional results."
More than 30 different A Levels and Diplomas are on offer at Central Saint Michael's, delivered by the College's inspiring specialist tutors and support staff. The team is committed to not only preparing pupils for the transition to university, but also helping them to build a strong skill set for the workplace — all delivered in an inspiring and inclusive learning environment.
Enrolment for 2022/23 at Central Saint Michael's opens on Thursday 25 August. For more information, visit enrol.centralstmichaels.ac.uk/