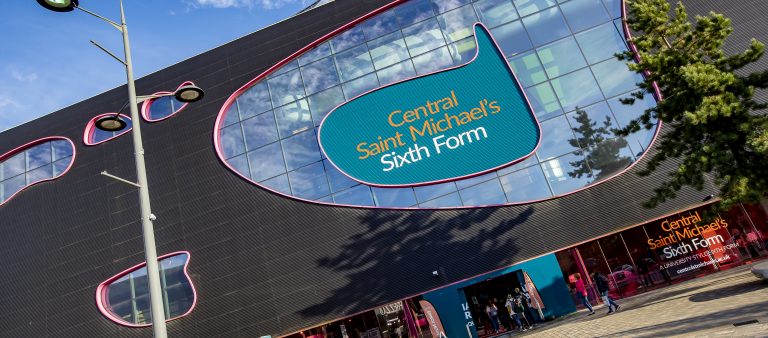 More than 30 different A Levels and Diplomas are on offer!
School leavers looking ahead to their next step are being encouraged to enrol at Central Saint Michael's Sixth Form this September.
The university-style sixth form in West Bromwich is highly regarded for its state-of-the-art facilities, exceptional teaching standards and academic excellence. As the College looks ahead to a new term, it is inviting prospective students to take their first step towards a bright future in 2022/23.
More than 30 different A Levels and diplomas are on offer at Central Saint Michael's, delivered by the college's inspiring specialist tutors and support staff. The team is committed to not only preparing pupils for the transition to university but also helping them to build a strong skill set for the workplace – all delivered within an inspiring and inclusive learning environment.
What's more, all 16-18 full-time students can benefit from the college's Mega Deal, with free Metro travel or a bus pass. Financial support, free meals and free and subsidised activities and trips are also available to those students who meet the requirements.
At Central Saint Michael's, core AS and A Level subjects, including business, chemistry and economics, are offered alongside a range of 10 specialist diploma courses. This wide selection offers students a flexible approach to learning which is designed to meet their future career and university aspirations.
The college is also proud to offer students the opportunity to join the Young Professionals Academy – an exciting new approach which is ideally suited for school leavers who have a clear idea about their future career in either forensics, medical, legal, business, science or social care sectors.
The academy programme is focused on equipping students for the world of work, with the opportunity to access career-relevant internships at leading employers, as well as combining complementary A Levels with their chosen diploma.
Renowned for achieving exceptional pass rates and preparing pupils for a bright future, students from Central Saint Michael's go on to make their educational mark at Birmingham's own universities, as well as other top-ranking institutions throughout the UK and embark on exciting careers in a variety of sectors.
Enrolment for September is now open and we'd encourage prospective students to come and talk to us about their future plans. We're committed to creating a supportive and nurturing learning environment whilst unlocking the full potential of each and every individual – inspiring them to work hard, aim high and achieve their future career and university aspirations.

Dr Matt Lamb, Principal of Central Saint Michael's Sixth Form
"At the College, we encourage every pupil to thrive and succeed in their chosen field, and we're incredibly proud of our students' achievements which are reflective of their dedication and drive. Our inspiring team of tutors are ready to welcome this year's students and we look forward to opening the doors this September. Now's the time to find out more about the exciting opportunities on offer, so we'd encourage those interested to visit us today."