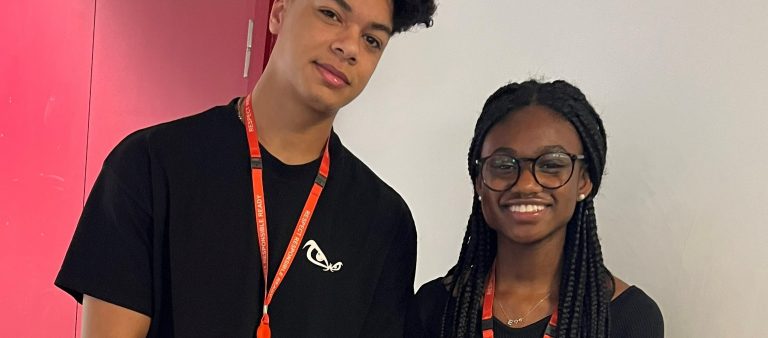 Two ambitious Law students from Central Saint Michael's Sixth Form have been selected for a six-month mentorship and paid work experience with a Top Tier trailblazing legal firm.
Mackenzie Evans and Erika Frimpong begin their Reach Mentoring programme with Browne Jacobson LLP this week, and will be working in their Birmingham offices during the summer.
Both students say this prestigious opportunity will give them insight into the day-to-day life of a lawyer and give them access to valuable contacts.
Mackenzie is looking at the possibility of becoming an apprentice solicitor, with a view to ultimately pursuing a career as a corporate real estate lawyer.
He believes his application stood out from the crowd when he talked about the person who has inspired him most in his life. Years ago Mackenzie's father was forced to flee the island of Montserrat which was devastated by volcanic eruptions. Despite losing everything, he was undeterred and is now a senior West Midlands fire officer, continuing to inspire his son to aim high in life.
Erika has previously completed a virtual work experience programme in Australia, preparing legal documents and finding evidence. She is hoping to secure a place at the University of Nottingham and says this experience with Browne Jacobson will seriously motivate her in her studies.
This is the second year CSM Law students have been selected by the firm, which has been ranked as a Top Tier law firm in 25 key practice areas in Legal 500 UK 2023, and has offices all over the country.
Lecturer in Law Abi Adeboyejo said: "I am sure Erika and Mackenzie will do us proud so that the opportunity to apply will be extended again to our CSM students next year. Thanks for the support of Bridget Tatham, Partner and Executive Sponsor for Race at Browne Jacobson and Tom Lyas – Head of Resourcing, and for making this fantastic opportunity available to our students."
Early Careers Advisor at Browne Jacobson, Zena Comrie, said: "The interest in places on our 2023 programme has been high and the calibre of applications has been very strong."
In May 2022, Browne Jacobson announced it was the first official law firm partner to O Shaped, an innovative movement with a mission to drive positive change within the legal sector. Ranking as the UK's leading employer in the Social Mobility Employer Index 2022, Browne Jacobson introduced a mentoring scheme specifically for aspiring young black lawyers to address the under-representation of this group across the profession.