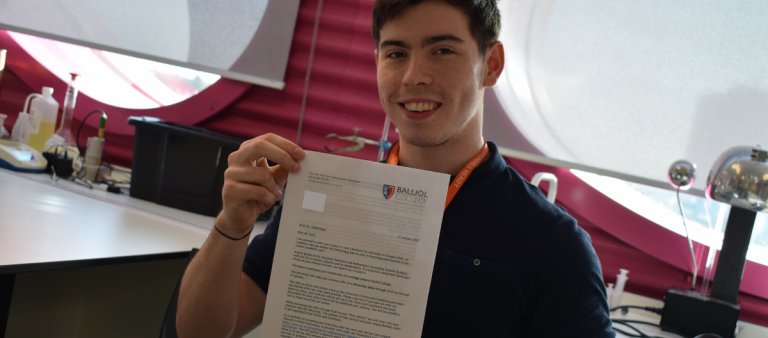 A gifted Central Saint Michael's Sixth Form student is overjoyed at being offered a place at the University of Oxford.
Louie Clark, aged 17, has secured his place to study Chemistry at Balliol College, subject to gaining A*A*A grades in his Physics, Chemistry and Mathematics A Levels in the summer.
Former Wednesfield High School pupil Louie applied for Oxford early in October and sat the entrance exam a few weeks later. He then had just two weeks to prepare for his interview in December.
After a nail-biting wait for news, he finally got the 'yes' email he had been longing for.
He said: "It's surreal! It was a nervous wait for the outcome over Christmas and I didn't want to be too devastated if it didn't happen.
"I'm still coming to terms with the fact that they've given me a chance, and this is such an opportunity. The next few months will be hard work but will be so worth it."
Louie has been offered a place on a four-year Masters course with his final year dedicated to research. If successful the talented sixth former will be one of only seven students admitted to read Chemistry at Balliol, which counts two Nobel prize-winners among its Chemistry alumni, and the Prime Minister Boris Johnson among its Classics graduates.
Ultimately Louie has ambitions to work in the pharmaceutical industry, in the field of drug development.
Strong support from his tutors at Central Saint Michael's, who saw Louie's potential, and his family have helped him through the rigorous selection process.
He added: "My family have been really supportive and were all congratulating me. My uncle is the only person to have gone to university in my family.
"The styles of teaching at Central Saint Michael's really work for me. The way everything has been taught to me has been so helpful."
Central Saint Michael's Principal, Dr Matt Lamb, added: "This is wonderful news as Louie is an excellent student.
"We wish Louie every success in meeting his offer as he enters the final months of his A Level studies."