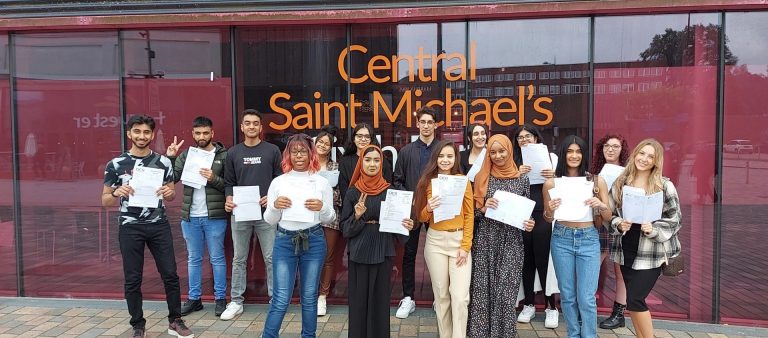 Students at Central Saint Michael's Sixth Form have been celebrating another summer of success!
The outstanding sixth form has again built on a track record of excellent results at both A Level and BTEC.
The class of 2021 have achieved exceptional results with a 100% pass rate in all A Level subjects and BTEC diplomas. More than half of A Level students have received the highest grades (A*, A or B).
Students from Central Saint Michael's will now go on to make their educational mark at Birmingham's own universities, as well as leading institutions throughout the UK and across a range of subjects including Medicine, Law, Pharmacy, Veterinary Science and many others.
Tetiana Tymchuk and Zanib Bibi both achieved three A*s across their respective subjects. As a result, Tetiana is going on to study Veterinary Medicine at the University of Nottingham, and Zanib is heading to the University of Birmingham to study Law.
Soham Singh secured an A* and two Bs, and will be moving on to the University of Exeter to study Medicine.
Commenting on his results, Soham said: "I'm really proud of myself. I worked really hard to get those grades and it's paid off. Everyone at Central Saint Michael's has been really helpful and they've all been pushing me towards what I want to do."
Principal of Central Saint Michael's Sixth Form, Dr Matt Lamb, said: "In the same way that the Olympic success of Team GB is the result of hard work and a talented team effort, so too are our students following in this spirit and achieving the gold standard despite the challenges of Covid. These outstanding results are a tribute to the hard work of our students and their lecturers and I could not be prouder."
Click here to find out how to enrol for Central Saint Michael's Sixth Form for 2021/22.