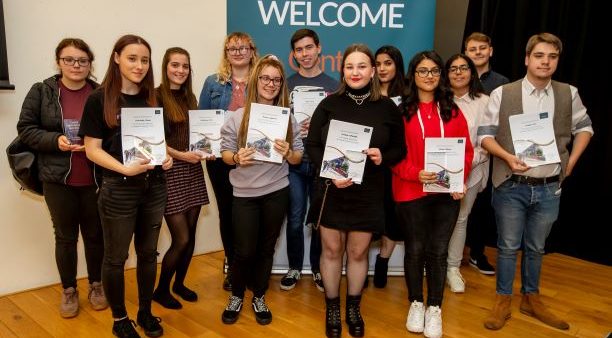 Successful A Level students from the newly launched Central Saint Michael's Sixth Form celebrated their amazing achievements at a special awards evening. Sandwell Mayor Cllr Ann Jaron cut the ribbon before the ceremony to mark the relaunch of the former Central Sixth college.
Prizes were presented to 14 students in categories ranging from Overcoming Adversity to Effort and Determination. Edward Woodvine was announced winner of The Central Saint Michael's Prize for Student of the Year. Edward, who got A* in Politics, B in History and C in Law, will be studying History at the prestigious University of Bristol.
Established as Central Sixth in 2012, Central Saint Michael's has gone from strength to strength with its best ever A Level results this year.
AS Level results were seven per cent above national average while A Level results were even higher at eight per cent above national average.
Principal of Central Saint Michael's, Dr Matt Lamb, paid tribute to the hard work of students and the support and dedication of lecturers at the relaunch award ceremony.
He said: "Tonight is particularly special as not only is it a celebration of our students and their achievements, it is also the official rebranding of Central Sixth as Central Saint Michael's Sixth Form. While Central Sixth has become widely known as a place to study and succeed, we felt the time had come to give it a clearer sense of place and mission.
"We wanted to retain the 'Central' part of the name as we feel that what we do is both central to the community and the students we serve. Saint Michael has been the catholic saint of West Bromwich since 1870 – almost 150 years. The church raised in his name stands close by. Churches have long been associated with teaching and learning. Many of our ancient universities started as places of worship. The feast day of Saint Michael (Michaelmas) is September 29 and is often used by universities to mark the start of the college year.

"Saint Michael's church in West Bromwich is a 'spiritan' order church which is dedicated to tackling poverty and inequality. Saint Michael has the unusual feature of being present on a range of culture and faiths. This includes Islam where he is known as Mikal, one of the messengers of Allah, promoting forgiveness and compassion. In Judaism, Michael rescued Abraham from suffering in the fire. In Christianity, he has the status of an archangel. Such a figure is perfect to reflect the diversity of this sixth form.
"Finally, Saint Michael is the patron saint of social justice – a founding principle of this sixth form. We have always aimed to provide opportunity to all, regardless of background, to study and achieve and to go into the world to achieve great things. I know that Central Saint Michael's Sixth Form will continue with that noble mission."