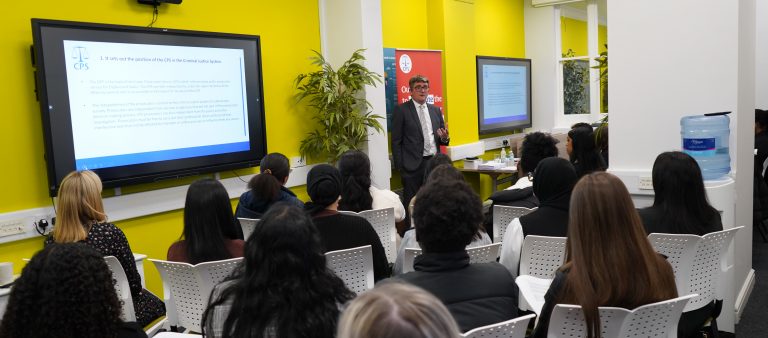 Twenty Central Saint Michael's Law students were selected for a prestigious two-day work experience programme with the Crown Prosecution Service.
Learners benefited from the expertise of Senior District Crown Prosecutors and a Careers & Recruitment Q&A Panel during their session at our Birmingham city centre base in Bennetts Hill.
The student delegates were required to apply the full code test for Crown Prosecutors to decide whether a case should continue when faced with difficulties, and explore the legal journey of a fictional criminal case.
A networking session and an introduction to the CPS and the programme by a Senior District Crown Prosecutor was followed by an explanation of The Code for Crown Prosecutors by a District Crown Prosecutor.
Students were then directly involved in a Magistrates Court Session and Crown Court Session with an interactive case study.
The Careers and Recruitment Q&A Panel was chaired by District Crown Prosecutor Jason Corden-Bowen with panelists including a Senior Crown Prosecutor, Legal Trainee and Paralegal Business Manager. A Learning & Development Manager also answered questions on apprenticeships.
All Law students completing the programme will receive a work experience certificate from the CPS.