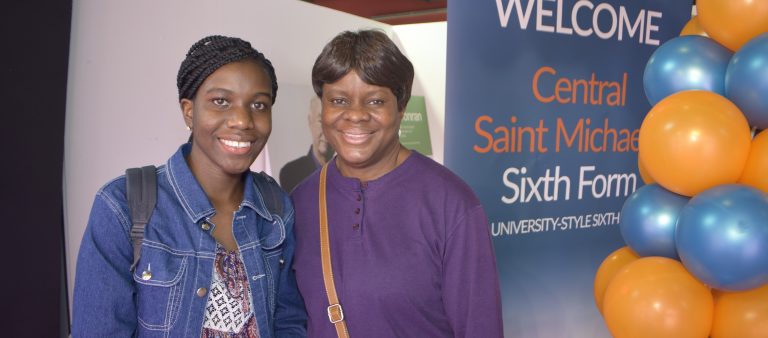 ACHIEVE YOUR CAREER GOALS AT CENTRAL SAINT MICHAEL'S
Have you got BIG goals for 2023 and the future? Are you ready to achieve ALL of these goals?
Central Saint Michael's Sixth Form January Open Day slots have now gone live and are ready for you to book for Wednesday 18 January, 4-7pm or Saturday 21 January, 11am-3pm.
We're here to empower you to explore our collection of career-building courses and to start achieving your university goals now.
Experience
Here's what one of our last attendees had to say about her recent open day visit:
Q. How has your Open Day experience been?
A. Everyone has been very nice and welcoming.
Q. Do you feel your questions have been answered?
A. Yes, everyone has been very informative and answered everything. I feel like I know everything I want to know.
Q. Have you chosen what you'll be studying?
A. I've got a better idea of what I do want to do. I've looked at Biology, I've looked at Law and I've realised Politics is not really my thing, but I've looked at everything I wanted to and I think I'll make a better decision now.
Q. What are your first impressions of Central Saint Michael's?
A. It seems really nice. The building's lovely. A lot of people seem really nice and the atmosphere is very welcoming and inclusive.
Unique
We asked Head of Upper Sixth, Navjot Kaur, to sum up Central Saint Michael's university-style Sixth Form in three words. She chose:
Navjot's top three tips for students joining us for January Open Days are:
Try and come with an idea of which courses you want to study and which staff you'd like to speak to.
Ideally come with your predicted grades so we can advise and guide you on your subject choices and course options.
Have an idea of extracurricular activities you might want to be involved in so we can point you in the right direction.
And her favourite part of Open Day?
Meeting new students and parents and finding out why they want to come to Central Saint Michael's.
Environment
Our student ambassadors will be on hand to personally accompany visitors on the campus tour. We asked them to reveal the five top reasons why attending an open day is so important.
You'll get to experience the college environment you'll be studying in.
You can talk face-to-face with lecturers about the courses you're planning to choose so they can help you with your choice.
You have the opportunity to talk to second year students about their experiences.
You will see the university-style facilities which will make you more independent.
During the tour you can explore all the rooms on campus including the quiet room and prayer room.
So secure your open day place early to avoid disappointment and have one less thing to worry about in the new year.
Go straight to centralstmichaels.ac.uk/opendays/ and book your slot.