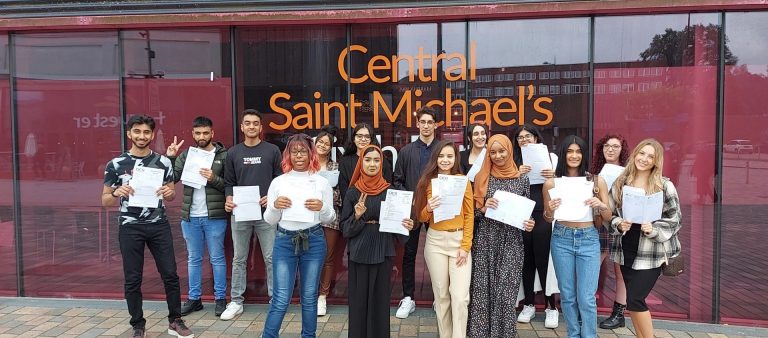 TAKE CONTROL OF YOUR FUTURE: KEY FACTORS TO CONSIDER WHEN APPLYING FOR CENTRAL SAINT MICHAEL'S
Central Saint Michael's Sixth Form has 24 A Level courses in all the most searched for subjects from Business, Chemistry, Economics, Film Studies to Psychology and Sociology individually designed to meet your career and university aspirations.
We also offer eight specialist Diploma courses through our Young Professionals Academy, which is ideal if you have a clear idea about your future career in Forensics, Medical, Legal, Business, Science or Social Care. This exciting academy is an opportunity for you to combine complementary A Levels with your choice of Diploma.
Professionals
You'll be taught by experienced professionals, from qualified lawyers to scientists, with passion and subject knowledge that motivates students to succeed. Many of our lecturers are examiners, which means they have insight into a range of student responses from schools around the country. This promotes new thinking in their teaching, enhances accurate grade prediction, and helps students with exam preparation techniques.
You will graduate with the skills employers and universities need, taking you on to professional roles or higher level apprenticeships. You will also receive help, guidance and support from personal career mentors, inspirational workshops, bespoke advice and guidance as well as visits to universities and work placements with local employers. Take Abbie for instance, who was selected for her prestigious industry placement by international law firm Eversheds Sutherland, and is now making the most of that experience in her Law studies at Coventry University.
Application
So what are the key things to consider when applying for a place at Central Saint Michael's?
We asked some of our current students who have been there before for their top five hacks to help you complete your application:
Be prepared and research
Take your time: sorting things out early does not mean rushing
Let us know if you need any extra support
Double check your application
Select early interview dates
The simplest way to apply is online. If you don't already have an account with us, you can set one up easily. To apply via the website, hit the Apply button and take it from there.
It's best to already have an idea of which subjects you want to study, but if you are struggling to find the best combination for your future, our careers team can make personalised recommendations for you, based on your subject preferences, experiences and future employment plans.
Would you like to know more?
If you'd like more information on which subjects we offer and how to take your application forward, you'll find it all here.
So now there's nothing to stop you, it's time to get your application in now and take control of your future.