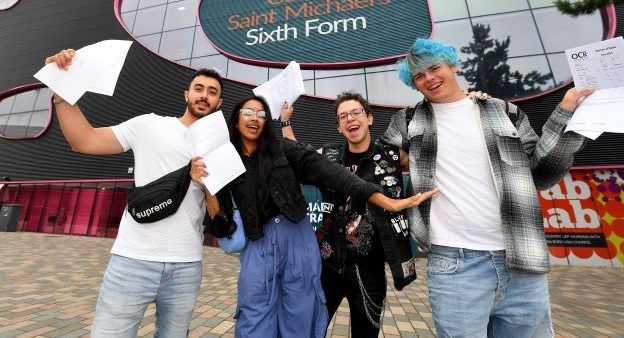 A Level students at Central Saint Michael's Sixth Form in West Bromwich have been celebrating another summer of success this morning.
The class of 2023 have achieved exceptional results, building on the sixth form's excellent track record. Central Saint Michael's students achieved a 99% pass rate in all A Level subjects and BTEC diplomas with many students getting the top grades. No less than 30 different subjects and qualifications saw a 100% pass rate.
Students from Central Saint Michael's will now go on to make their educational mark at Birmingham's own universities, as well as leading institutions throughout the UK. Former alumni have gone on to excel in a wide range of subjects including Medicine, Law, Pharmacy, Veterinary Science and many others.
Jay Abrahim achieved AAA* in his A Levels and is planning to study Economics at the University of Birmingham. Also planning to join the prestigious local Russell Group university is Aniqa Begum who got AAA* and who will be studying Psychology in Education. Rabia Akhtar studied for the Diploma in Science at CSM and got Distinction*/Distinction/Distinction. She is hoping to study Biomedical Science at York University. Fellow science student Silvia Maduako is off to BCU to do Diagnostic Radiography whilst Catrin Felton-Allen will be attending Nottingham Trent University to study Forensic Science.
Dr Matt Lamb, Principal of Central Saint Michael's Sixth Form, said: "We're delighted to celebrate another summer of success at Central Saint Michael's. I'd like to personally congratulate all our A-Level and BTEC students; they should be incredibly proud of their results. It's testament to their hard work and determination that they now have a wealth of exciting opportunities ahead and I've no doubt they'll continue to achieve great things.
"I'd also like to thank our wonderful team of teachers and support staff for their unwavering dedication to our students. We're all so pleased to see the class of 2023 secure such a fantastic set of results."
More than 30 different A-Levels and Diplomas are on offer at Central Saint Michael's, delivered by the College's inspiring specialist tutors and support staff. The team is committed to not only preparing pupils for the transition to university, but also helping them to build a strong skill set for the workplace – all delivered within an inspiring and inclusive learning environment.
Enrolment for the 2023/24 intake at Central Saint Michael's opens on Thursday 24 August.
Photograph ©Express & Star