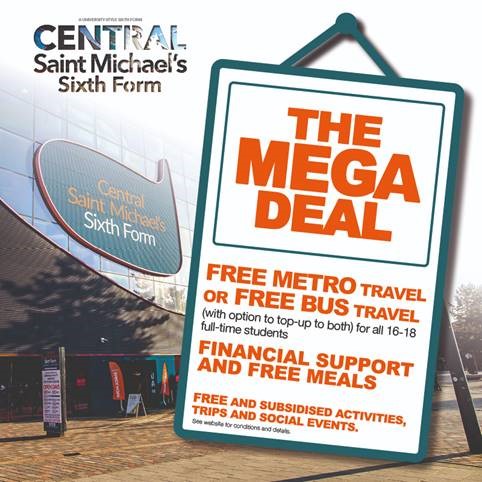 Choose Central Saint Michael's Sixth Form when you leave school and get all the benefits of our MEGA DEAL.*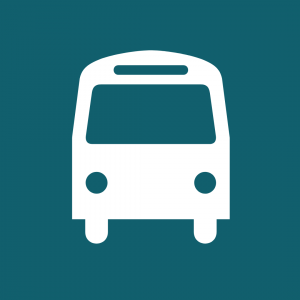 FREE BUS OR METRO TRAVEL for EVERY full-time 16-18 year-old student.**
We will provide you with a Term Plus Travel Card that allows travel on West Midlands buses in Sandwell, Dudley, Walsall, Wolverhampton, Solihull, Birmingham and Coventry, OR from anywhere along the Wolverhampton to Birmingham Metro line. You can pay a bit extra to top up one option to include the other, AND you can travel at any time, including evenings and weekends. This will be renewable termly if you keep up a good record of progress, behaviour and attendance.
Remember, we're right next to West Bromwich bus and Metro stations! Bus routes calling here include:
3, 3A, 4, 4H, 4M, 5, 40, 42, 43, 44, 45, 46, 47, 47A, 48, 48A, 49, 74, 79, 80, 80A, 89, 121, 289.
* Subject to continuing government funding.
** Subject to attendance, performance and continuing government funding. Students need to purchase a 16-18 Photocard online, which costs £10 for the whole academic year. 
If you are aged under 19, full-time courses are free.
FINANCIAL SUPPORT
The Learner Support Fund helps those students who would otherwise be unable to participate in Further Education. Priority groups are learners who are economically or socially disadvantaged.
Young people aged 16 to 18 on 31st August 2021 may be entitled to a £1,200 bursary (dependent on circumstances and performance) if they are:
In care
Leaving care
In receipt of Income Support or Universal Credit in their own right
Receiving Disability Living Allowance or Personal Independence Payments in their own right as well as Employment and Support Allowance or Universal Credit in their own right
We can also help young people who were in receipt of free meals at school and young people where household income falls below £32,600 (most other Colleges fix this at around £20,000).
For young learners where the household income falls below £32,600 we can provide financial support towards College trips and activities, equipment, uniform and books (dependent on course requirements).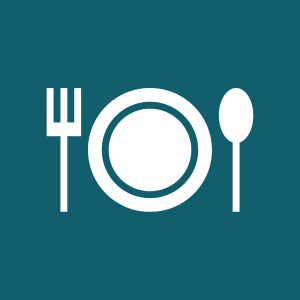 FREE MEALS
We offer free meals to students who are from low income households. Eligible students will receive credit on their ID cards to spend at the catering facilities in college at the daily meal rate of £2.70 for each day that they are timetabled to be in college.
To apply for free meals students must be:
Aged between 16 and 18 years on 31 August 2021, or aged over 19 and continuing on the same study programme (19+ continuers) they started before they turned 19, or who have an Education Health and Care Plan (EHCP). Students are eligible for a free meal where they meet the criteria and satisfy the residency criteria set out in the EFA 'Funding regulation' guidance for the 2021-22 academic year.
Eligibility: Students being in receipt of, or having parents who are in receipt of, one or more of the following benefits:
Income Support
Income-based Jobseekers Allowance
Income-related Employment and Support Allowance (ESA)
Support under part VI of the Immigration and Asylum Act 1999
The guarantee element of State Pension Credit
Child Tax Credit (provided they are not entitled to Working Tax Credit and have an annual gross income of no more than £16,190, as assessed by Her Majesty's Revenue and Customs (HMRC))
Working Tax Credit run-on – paid for 4 weeks after someone stops qualifying for Working Tax Credit
Universal Credit with net earnings not exceeding the equivalent of £7,400 pa
How to Apply
Students need to complete the combined 16 to 18 Free Meals and Discretionary Learner Support Fund (DLSF) Application Form (also available from Reception and Welfare department). They will be entitled to additional assistance from the Learner Support Fund if they qualify for Free Meals. We would encourage all students to apply early.