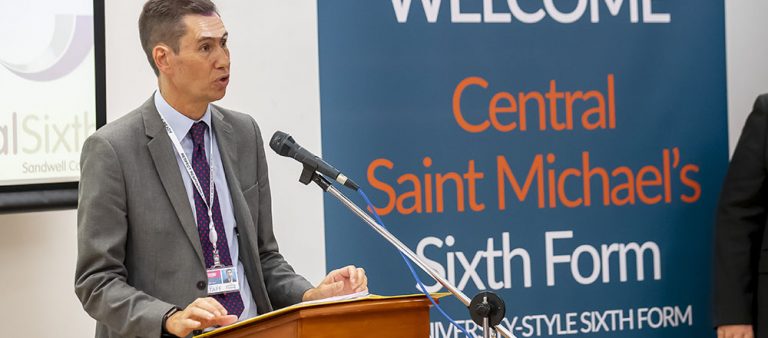 Dr. Matt Lamb (Director of Central Saint Michael's and Lecturer in Politics)
Dr. Matt Lamb has been successfully managing A Level provision for the last 14 years. He has taught A Level Politics for the past 21 years achieving consistently excellent results. Matt was educated at universities in Bristol, Birmingham, London, Worcester and Oxford and has a BA (Hons) in Politics and History, a Masters Degree in International Relations, a Masters Degree in History, an MBA, a PhD in Political Science, a Postgraduate Certificate in History and a PGCE. Matt has taught in colleges and universities, has been a senior examiner for Edexcel and has practical experience of politics as a local councillor, cabinet member and parliamentary candidate.
Welcome to Central Saint Michael's where aspiration meets inspiration. With our home in an iconic, sixth form centre in the centre of West Bromwich, Central Saint Michael's offers high quality and inspirational education to the students of the region.
Central Saint Michael's combines an adult ethos with a safe and supportive environment. We help students every step of the way to make the transition from school to university and employment. The students who join us are ambitious to do well and we work with them to ensure that they meet their full potential.
A Levels are challenging and stretching qualifications and they require hard work and dedication. With the help of our team of specialist A Level lecturers we work with young people and their parents to bring out the best from our students. All the staff are experienced and dedicated A Level lecturers with a track record of getting good results.
We are rightly proud of our results. This year we had a 100% pass rate in 19 different subjects and 99% of our students successfully passed their A Levels, with many achieving top grades. The number of our students successfully progressing to university was way above the national average at 91%.
Choose Central Saint Michael's as your next step on the ladder to success.