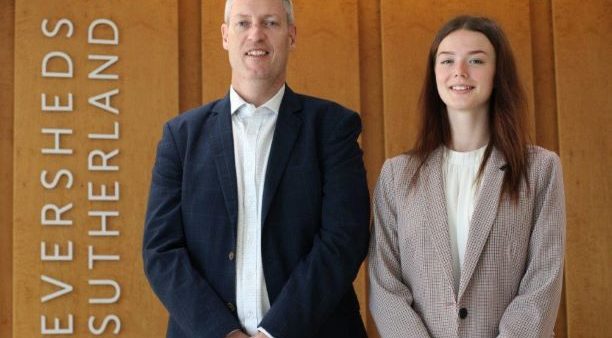 A Central Saint Michael's Sixth Form graduate has thanked an international law firm for a 'once-in-a-lifetime' work experience opportunity.

Abbie Dugmore was selected for the prestigious industry placement by Eversheds Sutherland, who offered the Sixth Form's Law students the chance to apply for the position, assisting with client workload.
Abbie, who achieved Law, Economics and Geography A Levels and is now starting her Law degree at Coventry University, worked remotely and in the Construction department's city centre office, familiarising herself with the digital lawyer approach.

The Construction department advises property developers, funders and global corporate clients, and energy and infrastructure clients, on the procurement of their projects.

Abbie assisted one of Eversheds Sutherland's Apprentice Solicitors, reviewing company contracts and supporting with drafting warranties, completing legal research and a case summary.
Eversheds Sutherland Construction and Engineering Partner, Richard Hartigan, said Abbie's successful application for the work experience opportunity demonstrated accurate research into the firm's values.

He said: "We were delighted to welcome Abbie into the team to give her some insight into working life within the firm. I wish her all the best with the next stage of studying at university. It has been a pleasure to partner with the college in this way to support students in our local community."
"I have felt extremely honoured to have spent time with Eversheds Sutherland. I was provided with very insightful information into Eversheds Sutherland and their vast industry knowledge. The whole experience has helped to build my knowledge of real legal principles and to develop my technological skills. I am very pleased to say my work experience with Eversheds Sutherland has been very fulfilling and that the whole team were very welcoming and approachable from the very start, and I cannot thank them enough for the once-in-a-lifetime opportunity, which has been invaluable."

Abbie Dugmore
Central Saint Michael's Principal, Dr Matt Lamb, said: "I am delighted that our student Abbie has benefited from this amazing opportunity to work with an international law firm."