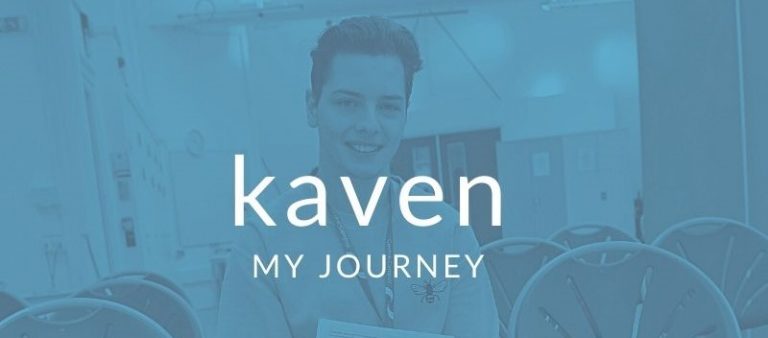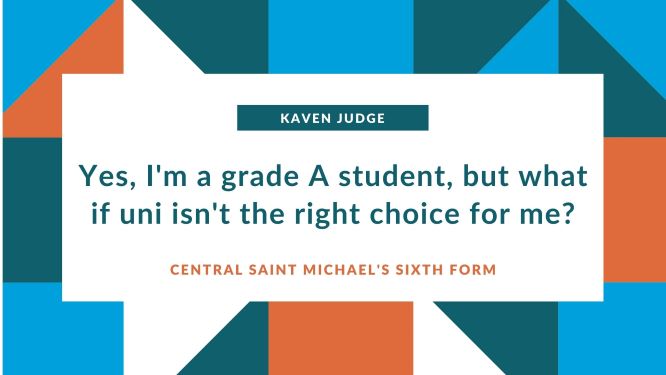 So I'm Kaven and I left Central Saint Michael's in 2018 with 3 As in Accounting, Business and Economics A Levels. I also got 3 As in my AS Levels the year before. You might think this is strange then for someone with those grades, but I decided not to apply to university at all and instead focused all of my efforts on securing a higher apprenticeship.
So why didn't I want to go to uni?
After seeing my older siblings struggle to find employment after graduating university and their worries with student loans, I wanted to do something different. A friend told me about higher apprenticeships in accounting and finance and, after doing some research, it was exactly what I was looking for. The chance to study towards a degree debt-free and guaranteed full-time paid employment. To me, it was a no-brainer! The scheme provided the exact same benefits as university, but with none of the downsides.
After applying for a handful of higher apprenticeship vacancies within finance roles, I came across KPMG. Their scheme stood out from the rest as it offered the chance to rotate around various departments, from audit and consulting to tax and deal advisory. As someone who wasn't really sure what area of finance to specialise in, this was ideal.
I still remember the excitement after finding out that I'd been accepted on to the scheme! After almost 3 years since leaving Central Saint Michael's, I know I made the right choice and haven't looked back since!
So who are KPMG?
Well KPMG are one of the Big Four firms in the UK dealing with accounting, tax and advisory services, so this is definitely a really interesting job to be doing with a world-renowned organisation.
I didn't expect to see myself here at KPMG after finishing college. I applied for the six-year higher apprenticeship, and needed BCC grades to secure my place. It's a really competitive assessment with a two-week wait to find out the result, so I was so happy to be accepted.
What's it been like so far for me?
I've loved the experience so far! I've been all over the country, from my residential training in the Cotswolds to Manchester, London, and everywhere in between. I began my journey working in audit (both private and public sector), working with large organisations and corporations like Ferrari, McLaren and Coca Cola. I even worked on an audit at Sandwell College! Since then I have been getting more involved in KPMG's NHS Counter Fraud department. Here I've been helping raise awareness of fraud in the NHS by creating materials that are now displayed in hospitals across the country. I go out to client sites and evaluate the finances and make sure that what they're reporting is in order. My day to day role is quite varied.
And working during a pandemic??
Work has been as busy as ever, with the only real difference being the move to working from home.
I'm already earning a salary as I'm on a higher apprenticeship, which is similar to an apprenticeship scheme but you get an Accounting & Finance degree and professional accountancy qualification at the end of it. I've just started studying for my Level 4 Professional Diploma in Accountancy and that sets me up for my professional qualification where I'll become a chartered qualified accountant, so I'd definitely recommend applying for this scheme just because you get that real-world job experience alongside your degree.
In fact, definitely look at higher apprenticeships. It's super valuable to anyone who is kind of stuck between university and apprenticeships. I'd definitely recommend it as a good pathway from sixth form. The most enjoyable thing about being an apprentice is having that head start on everyone else, for example, I've got more real-world applicational knowledge, more exam knowledge.
Was starting work a shock for me?
Joining work, the biggest kind of shock for me was not working with people in my age group because I was used to being with my own age group from college and high school but then to be moving on to be working with senior people and younger people at the same time is quite a different experience. Having that sort of rapport with your lecturers at Central Saint Michael's definitely prepares you for that. Central Saint Michael's prepared me by being a university-style sixth form in the sense that you're treated as an equal by your lecturers.
How did sixth form prepare me for work?
I'd say that it helped me be a lot more independent because whilst my lecturers were there to support me, I took on a lot of responsibility myself in making sure that I achieved my grades, and that independence is so valuable in a workplace, just because whilst you do have a team to rely on, at the end of the day, the only person who can get your work done is you, so independence a hundred per cent is what Central Saint Michael's has given me. But the support from my lecturers was amazing. I can't thank them enough!
What else did I achieve during my time at sixth form?
I won the Helena Kennedy Prize for Law & Business in 2018, named after one of Britain's most distinguished lawyers. In previous years this was won by Accounting students Carley Roberts, who read Accounting & Finance at the University of Birmingham, and is now a tax analyst for Deloitte, and Emily Clark, who also studied at Birmingham.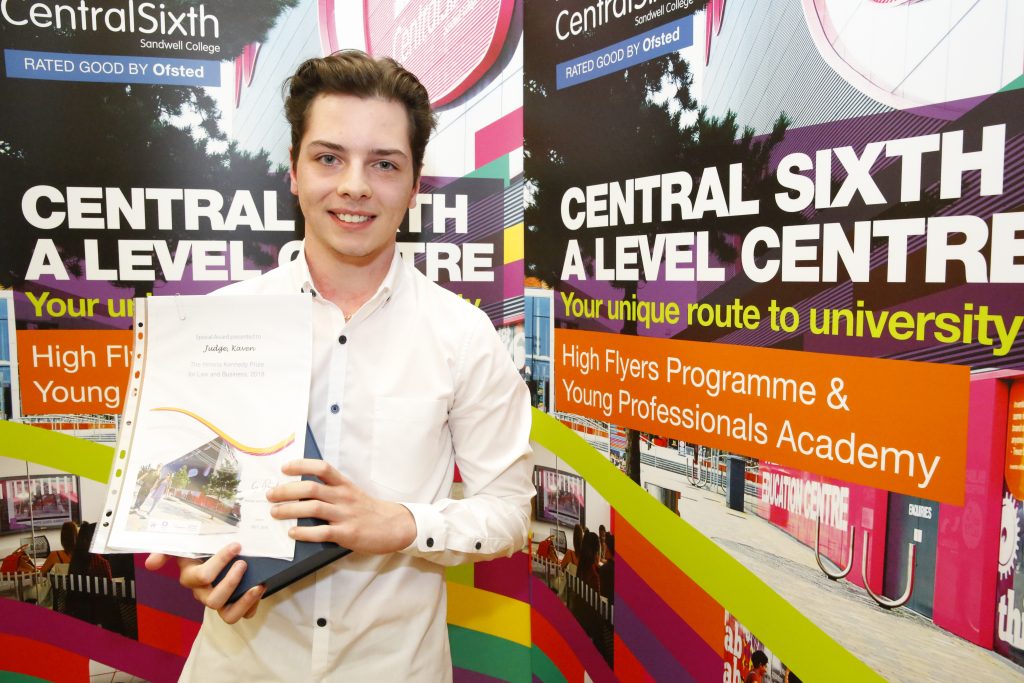 What has my own experience taught me?
Based on my own experiences, my advice to future students would be to work hard and look for your own opportunities. You may think that the only way to progress from sixth form is into university but I encourage you to look elsewhere if you don't feel that university is quite right for you.
This is reiterated by Central Saint Michael's Principal Dr Matt Lamb. He says: "University is not the only option. Some of our students prefer the option of degree apprenticeships or higher apprenticeships, which give students the options to train for a graduate level career without the cost of a traditional university education. Our sixth form has also been accredited by AAT (Association of Accounting Technicians) to deliver its internationally recognised accounting qualifications. AAT is the UK's leading qualification and professional body for vocational accountants, so this could be an alternative route to a successful career like Kaven's."
What are my future plans?
I hope to become a chartered accountant after my apprenticeship finishes and move on to a managerial role. KPMG offer you the chance to become an assistant manager once you complete your apprenticeship and that's definitely a big aspiration for me. I want to be able to coach and manage a team. I can't wait to see what the future brings!
If you'd like to find out more about what your future could bring, talk to us now or book an interview.